Supporting our community means more than ever this year. Here are all the local charities helping to spread joy this Holiday Season.
Colchester Christmas Index Program
Remember how excited YOU were on Christmas morning as a child? This year why not spread that joy to a child in need?
You, your family, or business can help make Christmas dreams come true for a child in need by donating to the Colchester Christmas Index Program.
Instead of exchanging gifts at the staff Christmas Party or family get together, why not sponsor a family, make a financial donation, or donate new unwrapped toys, clothing or gift cards? Gifts for teens are always in high need.
Through the Cobequid Children First Foundation, the Colchester Christmas Index Program exists to help families at Christmas time that may be facing financial challenges. Christmas can be a stressful time for families. We understand that there isn't always extra money for special occasions like Christmas.
The Christmas Index Program is a cooperative effort of groups and individuals in Colchester County dedicated to providing assistance for those in need at Christmas time. The objective is to ensure that those needing assistance receive it. The ultimate goal is to match each family that requires assistance to a group, family, or individual.
Go to https://christmasindex.ca/index.php?pageid=1 to donate today!
Facebook Page – https://www.facebook.com/christmasindex
Elves For Elders – United Way of Colchester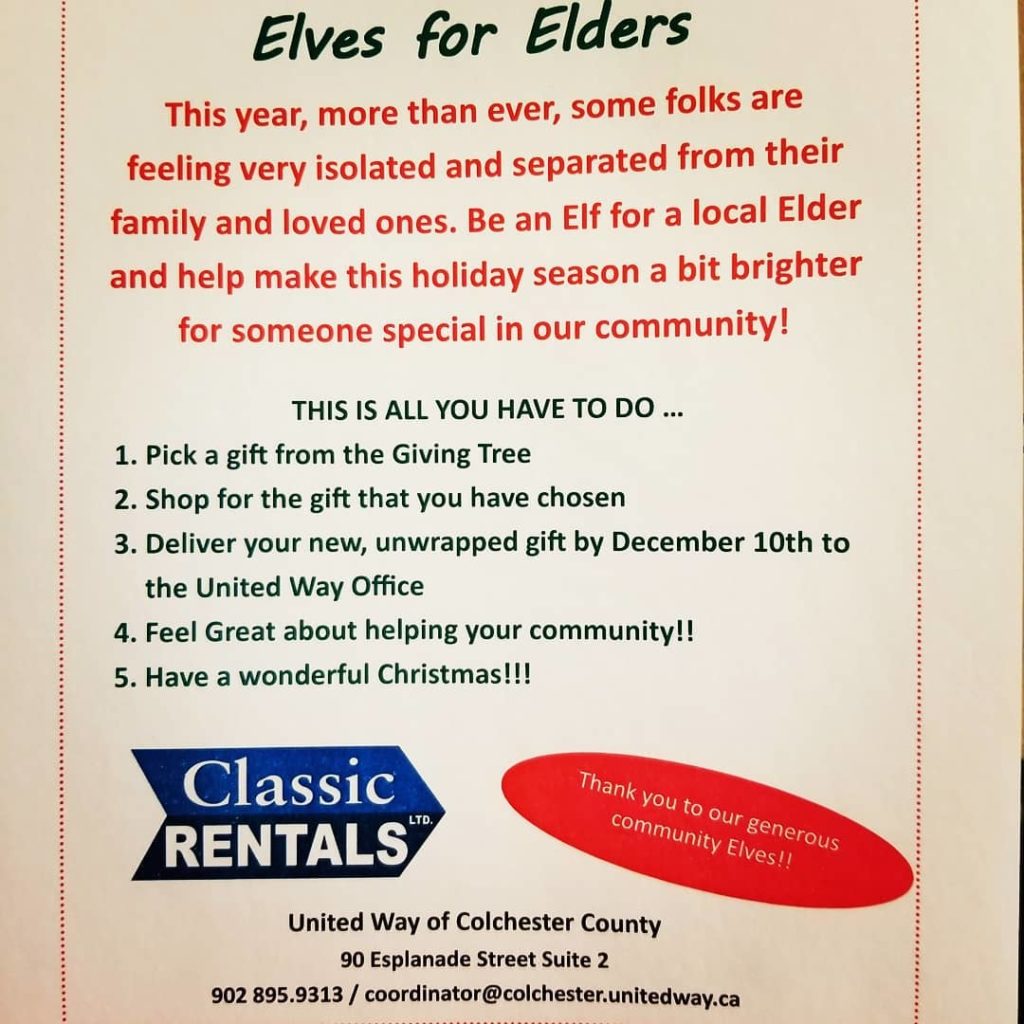 This year more than ever, some folks are feeling very isolated and separated from their family and loved ones. Be an Elf for a local Elder and help make this holiday season a bit brighter for someone special in our community!
This is all you have to do…
Pick a gift from the Giving tree (Find the tree at the Truro Mall, United Way or Classic Rentals)
Shop for the gift that you have chosen
Deliver your new, unwrapped gift by December 10th to the United Way Office
Feel great about helping your community!
Drop off location: United Way office by December 10th
90 Esplanade Street, Suite 2
902-895-9313
coordinator@colchester.unitedway.ca
https://www.colchester.unitedway.ca/
Facebook – https://www.facebook.com/UnitedWayCol
Coats For Kids – Maggies Place Family Resource Centre Colchester 
Thanks to the support of Wilson's Heating, Maggie's Place is receiving donations of new and gently used children's winter coats.
Ensure that every kid who needs a coat this year gets one. If you have a gently used kids coat that is no longer needed, you can drop it off at Maggie's Place (Address below). If your child is in need of a coat this winter, common down and pick one out!
Maggies Place
1027 Prince Street, Truro NS
902-895-0200.
Colchester Food Bank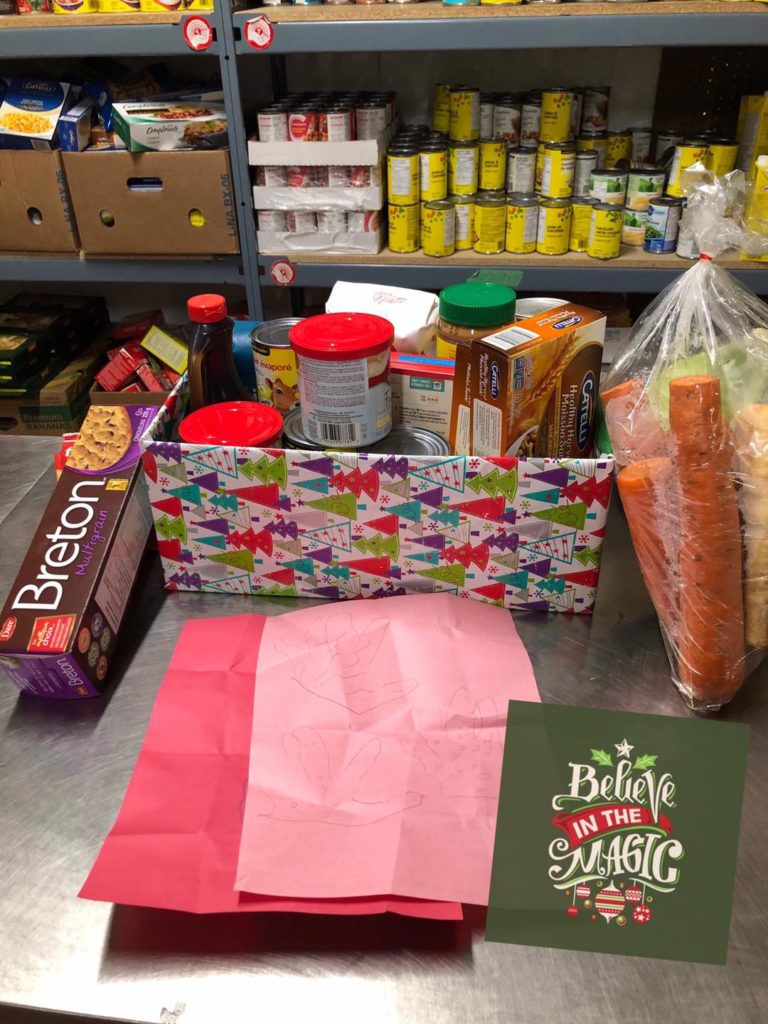 The Colchester Food Bank gives out hundreds of thousands of pounds of food to people in Colchester County each and every year. The food bank has thousands of clients on file and relies on the very generous support of the community for donations.
The Colchester food bank needs your donations now more than ever! Let's help feed bellies this Christmas!
580 Prince Street, Truro, Nova Scotia
colfoodbank@eastlink.ca
902-893-4566
http://www.colchesterfoodbank.com/
Grocery Gift Cards – Above & Beyond Home Decor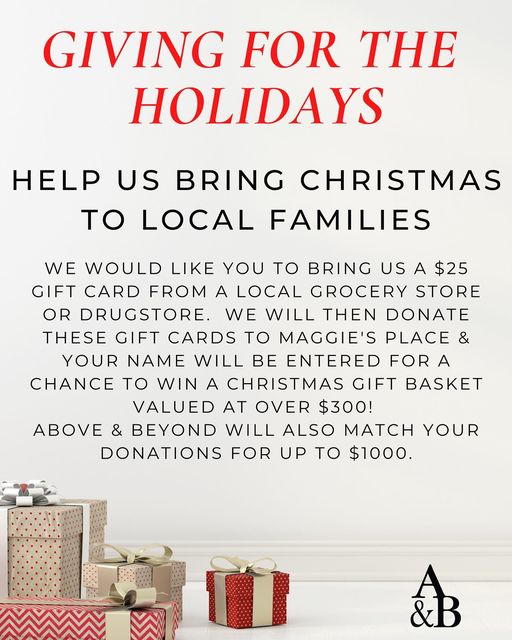 Help bring Christmas to local families.
Above & Beyond Home Decor is accepting $25 gift card donations from a local grocery store or drugstore. They will then donate these gift cards to Maggies Place and your name will be entered for a chance to win a Christmas gift basket valued at $300! Above & Beyond will also match your donations for up to $1000!
Above & Beyond Home Decor
49 Inglis Place Truro, NS
(902) 895-1445
aboveandbeyond@bellaliant.com
http://www.aboveandbeyondhomedecor.com/
Holiday Heros – Truro Police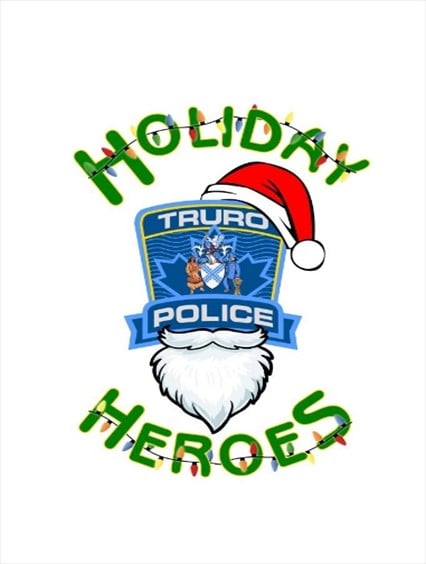 Holiday Heroes 2020 is going to look different this year than in the past. One thing remains the same though, 60 local elementary students (nominated by their respective schools) along with their siblings, will be receiving gifts taken from their Christmas wish lists!
In years past they depended upon the generosity of our local community members and small businesses and they were fortunate enough to be welcomed under the umbrella of the Christmas Index Program. This enabled them to really go big, to provide these kids and their families with an abundance of useful and exciting items.
As a result of the current pandemic and its impact on our community, they have decided not to reach out for donations knowing this would greatly impact their budget. Fortunately, our community is a very supportive and generous one. Businesses, organizations, and individuals have begun reaching out wishing to contribute to the cause. They are now optimistic that they will be able to provide not only for the selected children and their siblings but potentially for some additional families in the community as well.
If you would like information about how you could become a Holiday Hero helper or make a donation please email them at ourholidayheroes@gmail.com
Donations have to be in by December 15th!
Holiday Food Hampers – CEC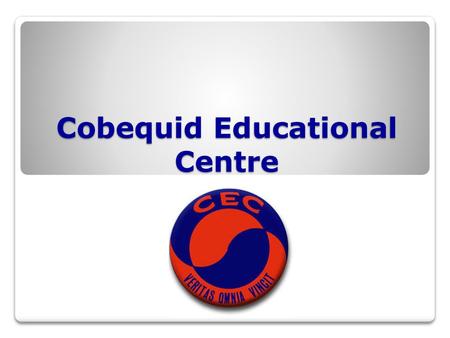 Each year Cobequid Educational Centre (CEC) supports students/families in need through the donation of holiday food hampers. Because of Covid-19, the school is limited in both resources and opportunities for generating revenue to support this important program. In 2020, instead of hampers, the school will be providing grocery gift cards to those who are identified.
CEC is accepting grocery gift cards or cash donations for those in need this Christmas!
Call the office to donate 902-896-5700
Christmas Card Drive for Seniors – Truro Buzz
Since visiting our seniors is discouraged, we are organizing a Christmas card drive to brighten their holiday season!
Let's bring our community together and gather as many Christmas cards as we can for our seniors in enhanced care facilities throughout Colchester County!
Make a card, buy a card, get your kids involved, and create some fun art! Get your neighbors, co-workers, and friends involved! LET'S GET CREATIVE!
Drop off locations:
Truro Buzz Hive – 802 Prince Street, #102 Truro NS
Truro Library
Stewiacke Libray
Tatamagouche Libray
We are accepting cards from now until December 18th!
Let's put some smiles on our senior's faces this holiday season!
Giving Tree – Truro Farmers Market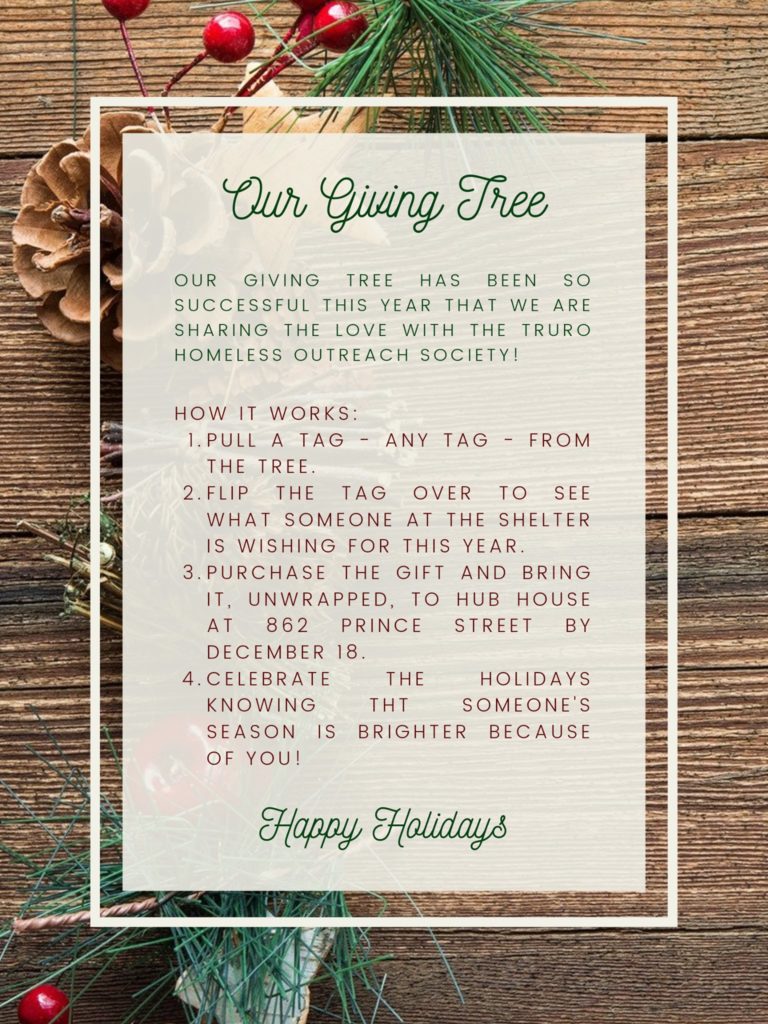 You can find the giving tree at our local farmers' market.
How it works:
Pull a tag – any tag from the tree
Flip the tag over to see what someone at the shelter is wishing for this year
Purchase the gift and bring it, unwrapped to the Hub House at 862 Prince Street by December 18th
Celebrate the holidays knowing that someone's season is brighter because of you!
Coat Exchange – Odd Fellows Liberty Lodge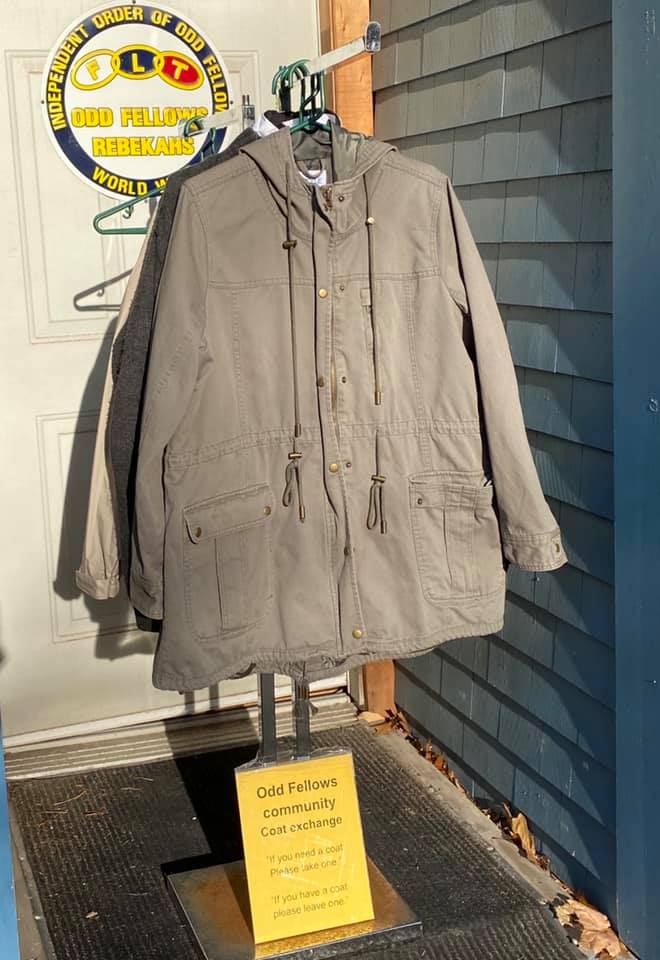 Liberty Lodge Tatamagouche has taken on the community Coat Exchange this year. You will find the coat rack at the entry to their Lodge on Main St.
"If you need a coat, take one."
"If you have a coat, please leave one."
245 Main Street, Tatamagouche, NS
Christmas at the Cafe – Souls Harbour Mission
Chritmas at the Cafe will look different this year as many things are.
They will be offering a take out Christmas Dinner with a stocking. Dinner will take place December 24th from 12pm – 2pm at Soul's Harbour Mission at 130 King Street.
If you would like to make a donation to this event, please contact Aaron Stevenson (902) 305-3100 or aaron@adstevenson.com for more information
Food Bank Donations – Fundy Vets
The Fundy Vets partners and staff recently decided to do something to help those in our communities who may need a hand during this 2020 holiday season.
From Dec 1st, to Dec 15th, Fundy Vets will match every monetary donation to our local food banks dollar-for-dollar, with a commitment up to $10,000!
If you're as fired up as we are about helping out in our communities this holiday season, and you're in a position where you can donate, go to this link on our website to give what you can: https://www.fundyvets.com/blog/fundy-vets-foodbank
More information can be found on their website about this important holiday initiative. http://www.fundyvets.com/
Truro Location 902-895-8195
Shubie Location 902-758-3180